Bird Watching Guide April

›

›
7 Must Do's To Help Backyard Birds In April

#1 Must Do For Bird Watching Guide April
1.    It Is Time To Reverse The Process Of Turning Bird Houses Into Roosting Boxes!

If you prepared bird houses for use as roosting spots by birds for the night during the winter months, then reversing the preparation to make your bird houses useful as nesting boxes again will be necessary.
4 Tasks To Do

–    unplug air vents
–    remove perches placed inside and perches on the outside too for that matter, as the birds who nest in cavities do not need them, but it does help predators like Starlings, Blackbirds, House Sparrows and others.
–    clean out any bedding material you may have added in the fall or winter.
–    If the front panel was removed and replaced to put the entrance hole at the bottom, then flip it back to make the hole near the top.
#2 Must Do For Bird Watching Guide April
2.    What Makes A Bird House A Great Bird House?

Tips For The Best Bird House Real Estate

There are many factors that can make your bird house more attractive, practical and safer.
– Easy to clean by opening the front or side panels or roof.
– Matching house size and entrance hole to a type of cavity nesting bird.
– Ensuring ventilation holes.
– If painting, using safe paint.
– Absolutely no perches!
– Use methods to keep predators out with door guards.
– Install a ladder. Seriously!
– Every bird house needs drainage.
– Use proper building materials.
Get Details About Each Factor Above
#3 Must Do For Bird Watching Guide April
3.    A Primer On Hummingbird Nectar

–     Never use red dye or dye of any color, ever!
–     Most of the season, mix Hummingbird food, 1 part sugar to 4 parts water.
–     According to The Cornell Lab Of Ornithology, nectar that is mixed a little stronger UP TO 1 part sugar to 3 parts water in the spring for about a month after they arrive back in the spring will give them the added energy they will need. They need this to replenish reserves after their long journey; to defend a territory, find a mate, build a nest and start raising a family before all their natural food is ready. (The same in the fall when they begin to migrate back south.)
–    Always keep feeders sparkling clean. (If you are not prepared or able to keep feeders clean, then best not to start.)
–    Don't use "drippy" feeders.
–    Don't use ready made syrup with additives, make your own, it is simple.
–    Should you feed Hummingbirds?
These Two Young Anna's Hummingbirds Have Had Many Hours Of Hard Work Put Into Their Survival
Sign Up For


Wild Bird Scoop News


& Receive




The 7 Must Do's To Help Backyard Birds Each Month





PLUS




Get The Bonus 7 Part Series

Hummingbirds "The Jewelled Warriors"
#4 Must Do For Bird Watching Guide April
4.    Are You Still Cutting Your Lawn?

Don't cut your lawn!   What?

Let parts of it at least, go to seed for the birds! We do not often think about how important natural grasses are to the well being of backyard birds and other wildlife and how manicured lawns have a negative effect on nature thriving.
7 Ways Wild Grasses Benefit Birds

(Wild grasses native to your area only.)
– Grass seed provides birds with food.
– Dried grass is used by birds to make nests.
– Some birds nest in the grass.
– Growing native grasses in your yard will attract more birds along with the birds you see at your feeders.
– Grassed areas are cooler than mowed lawns.
– Natural areas are healthier environments for our birds.
Manicured lawns are not a natural system and therefore they take so much more of our time and resources (money) to maintain. And some of those resources are chemicals that damage our ecosystem.
#5 Must Do For Bird Watching Guide April
5.    How To Have A Perfect Natural Lawn!

So, if you cannot help yourself and you just can't do without some grass in your yard, here are 4 tips from the experts on how to keep a healthy lawn with far less interference from you with weed killer, chemical fertilizer and water.
4 Tips For Healthier Grass

–    First Tip: Did you know that grass that is cut short will be far less healthy than grass that is maintained a little longer in length?
Here's Why.
The blade is the food manufacturing part of the grass.
Mowing your grass a little longer than shorter, leaving it 3 to 4 inches high will provide the grass with the ability to make more food.
This will result in healthier grass than grass that is short and starving.
If it is mowed too short, then there is no place for photosynthesis to take place and the grass can't make food.
It will have to steal what it needs from the roots in an effort to grow more blades and your grass weakens.
–    Second Tip: Maintaining grass at a longer length will shade the earth under it, which prevents water loss. This results in far less need to water the lawn and saves precious water and money.
–    Third Tip: The longer the grass, the less weeds will grow. All lawns have many weed seeds lying dormant within them waiting for the right conditions for the seed to germinate.
What is the one condition that a long lawn does not provide for weed seeds? Light.
If your grass is long enough the weed seeds are starved for light and will not germinate.
Which also brings us to an important point, weed killer will not be necessary and digging out a few weeds here and there by hand will be easy.
–    Fourth Tip: When your grass has good blade growth because it is left a little longer than shorter, the roots grow deeper and are stronger. This means your grass will again require less water, be resistant to disease and easily produce all the grass blades it wants to make more food for itself and further starve out weeds.
Natural systems are much easier to maintain, take less money, need no chemicals and support abundant birdlife!
Our birds need a healthy environment to survive.
#6 Must Do For Bird Watching Guide April
6.    Why You Should Provide Water For Your Backyard Birds?

Wild Birds Need Water For 2 Reasons:
Drinking & Bathing

– We all know every living animal needs water to survive. An animals body is made up of water primarily, so drinking is necessary for life.
– Birds use water for bathing to rid themselves of parasites and keep their feathers in prime condition for flying.
Bird baths do not have to be expensive or complicated. The most popular style is a bowl sitting on a pedestal or legs. But they can hang, sit on the ground or can be placed on tables, stools or many other things too.
There actually is a third reason to have a bird bath and that is that birds truly love the activity of bathing, so every bird watcher should have a bird bath in their yard, patio or balcony.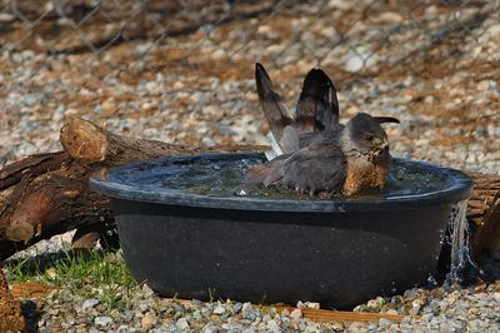 The Owner Of This Bird Bath Said This Cooper's Hawk Takes 45 Minute Long Baths
Proof Of Pleasure!
Discover More About Bird Baths
#7 Must Do For Bird Watching Guide April
7.    Clean what?

All bird feeders, bird baths, poles, hooks where birds often sit.

Finches of all kinds and Mourning Doves are especially susceptible to picking up diseases at dirty feeding stations.
Learn About The Diseases That Birds Can Get From Dirty Feeders
Hope You Found The Bird Watching Guide April Useful!

Get The Full Bird Watching Guide Series
For Each Month

7 Must Do's To Help Backyard Birds Each Month

Bird Watching Guide June (Still to come!)
Bird Watching Guide July (Still to come!)
Bird Watching Guide August (Still to come!)

As an Amazon Associate I earn from qualifying purchases.
Sign Up For


Wild Bird Scoop News


& Receive




The 7 Must Do's To Help Backyard Birds Each Month





PLUS




Get The Bonus 7 Part Series

Hummingbirds "The Jewelled Warriors"
Thank You for Visiting
&
Please Make This Site Your
Guide to Backyard Wild Birds