Bird Buddy, a smart bird feeder that includes an automatic camera, launched on Kickstarter to great fanfare in late 2020.
Birdwatching is on the rise as a hobby. With more people spending time at home during the pandemic, backyard birds became the everyday stars of the show for many people.
So much so that nearly 23,000 people pledged over $4 million to get their hands on the Bird Buddy smart bird feeder.
Over two years later, Bird Buddy is finally getting most of its orders out to backers of that project. This has caused some understandable frustration for the project's original backers, who have waited more than two years to receive their product.
At this point, Bird Buddy is all caught up and is shipping out products when you order.
We were one of the lucky ones to get our hands on a Bird Buddy video Bird feeder back in 2022, so we've been using this thing for quite a while now.

In our in-depth Bird Buddy review, we'll break down the good, the bad, and the ugly about this fun new feeder.
Bird Buddy Unboxing & Review Video
I put together a 5-minute video showing the packaging experience as well as what I've found in terms of the accuracy of the Bird Buddy AI for identifying the visitors to the feeder.
Opening up the Bird Buddy
The Bird Buddy is well-packaged. The product is very clean looking, with an aesthetically pleasing matte green box.
Inside the box are the feeder and camera, a charging cord and adapter, a scoop for bird food, some basic mounting tools, and a string to hang the feeder.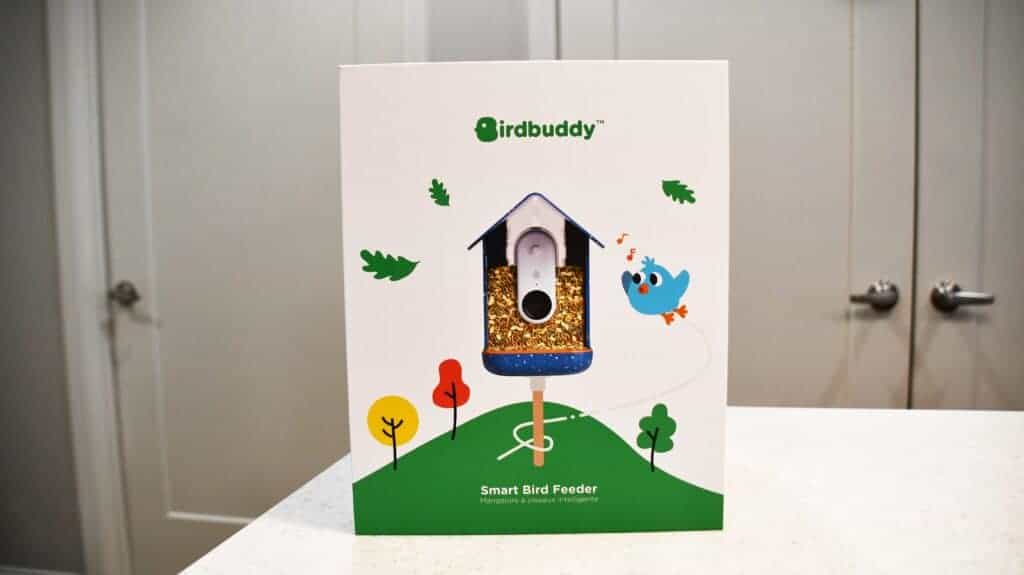 The feeder itself, made from lightweight blue or yellow plastic, is very neat and presentable. The camera, which attaches to the feeder via a magnet and detaches to charge, is white.
At just nine inches tall with an overhanging roof, it's not the tallest bird feeder of all time. Because of this, certain larger birds may not be super comfortable ducking in below the low-hanging roof.
Now, time to see if the product's functionality matches its aesthetics.
Setting up the Bird Buddy
The first three steps to setting up your camera are creating an account, pairing your feeder via Bluetooth, and connecting the feeder to WiFi.
The first two were painless. After fully charging the device, the Bluetooth connected right away. The Wi-Fi was a little challenging and would not connect to the Spectrum Community Solutions Wi-Fi that's set up at our apartment building.
This Wi-Fi network requires a secondary process to connect beyond just entering a password. It requires the user to enter a MAC address or enter another Spectrum username and password to connect in addition to knowing the WiFi password. For some reason or another, this would not work with the Bird Buddy.
After taking the camera to set it up in another location on a more conventional Wi-Fi network, it connected right away. After a firmware update, the camera was ready to roll.
Another tidbit: We have since connected it to a second Wi-Fi network that did not require a password. The app says a password is required, but if you just enter a single space instead of a password, it will go right through.
The Wi-Fi connection process proved quite frustrating for me personally, but this shouldn't be a problem that most people will face.
Once Bluetooth and Wi-Fi are connected, the camera will ask you to complete a firmware update, and then you'll be ready to start receiving pictures and videos from the camera.
Getting Pictures From Your Bird Buddy
When you've got your feeder set up, it should begin sending pictures and videos as soon as birds (or other wildlife) show up.
When you get a visitor to your feeder, videos and photos of birds are sent to your Bird Buddy app as a "postcard," which you can choose to save or discard.
My first visitors did not happen to be birds, but rather a couple of curious squirrels, which were identified as "mystery visitors." Even though most people are not fans of rodents filling up on their bird seed, it was exciting to get that first picture of a squirrel to know the camera was doing its job.
Bird Buddy will send postcards to your phone even if you're not home, and you can even view a live stream of the camera from your phone. You're never out of the loop with what's happening at your feeder.
Keep in mind that the camera won't fire if you're actively viewing the live stream.
You can also set up your Bird Buddy to send postcards to three other people in addition to your own devices.
Photo Capture and Quality
I was fairly impressed with the camera's photo quality.
The Bird Buddy camera won't produce 20-megapixel quality like a mirrorless or DSLR camera would take, but the crisp photos are pretty comparable to a close-up photo that you would get from your smartphone if you were able to get within inches of a bird.
If you're interested in the actual specifications, the company says the camera shoots 720p video and takes five-megapixel photos.
While I was impressed with the quality of the photos, I initially found it a little disappointing that sometimes I knew there were birds by the feeder, but the camera wasn't returning any in-app postcards.
I believe this depends on lighting, how close birds are to the camera, how long the birds are at the feeder, and other factors, but just know that this isn't a purely motion-activated camera like hunters and wildlife watchers get with their trail cameras.
A junco sitting up under the camera where it isn't entirely visible, or a bird standing on a nearby railing but not perched on the actual feeder might not cause the camera to fire, for example.
In most cases, if the bird is actually perched on the base of the feeding tray, you will get a photo, but not every time.
If you're buying a Bird Buddy, understand those limitations and you'll avoid any disappointment in that regard.
In-app Identification and Information
One exciting feature of Bird Buddy is its ability to recognize various types of birds. It can capture high-quality videos and pictures of birds visiting your yard, creating a digital catalog of your local bird species.
The app's photo ID features are pretty accurate for recognizable types of birds like cardinals and blue jays, but, in our experience so far, it's had some trouble with less obvious species of birds, such as a tree sparrow versus a swamp sparrow, or a mourning dove versus a Eurasian collared dove.
These can be tough birds to distinguish between, so I am not too upset about this. Part of the fun of bird watching is figuring out on your own what birds you're seeing based on their features.
One cool feature is that the app saves your Bird Buddy pictures based on species so you can form an in-app life list of sorts. Just make sure to verify the birds on your own as well. Don't just take the app's word for it.
When a bird has been identified, you can also listen to the bird's songs via in-app soundtracks, view a range map, and read a couple of quick attributes of each species.
Bird Buddy's Room for Improvement
Customer Service Delays
If you read the comments of any Bird Buddy Kickstarter campaign post, a lot of the negative comments relate to the company's customer service. I understand these concerns.
When I was having my initial Wi-Fi troubles, there was a lengthy delay before I received a response from the Bird Buddy team. The company says to allow seven days before your ticket can be processed, but my wait time was even longer than that.
This can be frustrating, especially if you've already waited years to get your Bird Buddy and you want to get it up and running.
The company service representative that reached back out to me said that they're "in the process of expanding the support team in order to improve our response time".
In a Kickstarter update in December, the company said it had doubled the size of its team already, dropping the number of open customer support tickets from 11,000 to 2,000 in a span of two weeks.
Between the shipping delays and customer service delays, this is Bird Buddy's biggest problem. In December, they admitted in a Kickstarter update that they had "dropped the ball," so hopefully continued improvements are on the way.
Any improvements still likely won't be enough for some people to look past the delays.
Once you've got the camera up and running, it's a neat product, but first impressions are important. If someone's first interaction with a company is a lengthy shipping or customer service delay, that can be difficult to overcome.
Battery Life
The camera, which can be removed from the feeder easily to charge, doesn't have the longest battery life, especially if you're frequently receiving photos or viewing the live stream.
During a period where we were receiving lots of postcards and checking the live stream quite often, we started off at 80 percent battery and were down to about 20 percent 48 hours later.
The camera stops taking pictures at 12 percent. This means bringing in the device to charge it every couple of days.
In a quieter period of bird activity, where we didn't check the live stream more than once a day, the battery was still at 50 percent after four full days.
For what it's worth, Bird Buddy advertises a battery that lasts five to 15 days. The company has also put out recent firmware updates to try and improve the camera's battery life, so, hopefully, they'll continue to work at this to make improvements.
If you're not worried about capturing a picture of every bird that stops by, you could just charge it at your leisure, as it's still a functioning bird feeder without the camera.
However, the camera is clearly the highlight of the product and the reason people have paid as much money as they have to acquire one.
Birdwatchers who want to minimize downtime due to charging can plug the Bird Buddy into a power source or purchase the solar roof add-on, which allows the camera's rechargeable battery to charge continuously during daylight hours.
The Verdict
The Bird Buddy is not a perfect product by any means, and it's definitely not cheap.
Bird watching is a hobby that everyone can enjoy for very little start-up investment, but there are many ways that you can spend money on cool gadgets to improve your experience.
If it doesn't break your budget and you're looking to step your game up in the birding technology department, then the Bird Buddy might be for you.
There are limitations to the product and there are certainly issues with the shipping and customer service processes at the company. Current purchases won't ship outside of the U.S. and Canada, and they won't go out until at least April.
If you're willing to wait, we have really enjoyed using the Bird Buddy so far. Trying to set the camera up in a position to get the best photos of as many bird species as possible and sharing them with family members has been a fun experience.
Frequently Asked Questions
What Color Options Are Available?
Bird Buddies come in blue and yellow. The blue version has an orange perch for birds and the perch is white on the yellow version.
What Add-Ons Are Available?
In addition to the base package, you can add a detachable solar panel roof, a water fountain, a wall mount, or a suet ball holder to your package for an additional cost.
How Much Does Bird Buddy Cost?
The base price for the Bird Buddy is $249, although that price does come down to $199 with what appear to be frequent sales.
A solar roof can be added for a base price of $125 more, a wall mount costs $40 extra, a water fountain is $40 more, and a suet ball holder is $24.
How Long Does the Bird Buddy Battery Last?
This is one of the things that Bird Buddy is working to improve with firmware updates.
The camera is currently supposed to last between five and 15 days, although your exact battery life depends on how many photos your camera takes and how much you stream the live video feed.

I've found that mine typically lasts closer to 5 days than 15. If it's really busy at the feeder and the camera is taking a lot of pictures, it might be only 4 or so days before I have to go pull it off and charge it.
How Often Should a Bird Feeder Be Refilled?
A bird feeder should be refilled as often as the birds are emptying it or as often as you want to re-fill it. A full bird feeder often attracts more birds than a half-full one.
You'll also want to take time to completely empty and clean your bird feeder regularly, usually every couple of weeks.
Does Bird Buddy Require a Subscription?
No. You do have to set up a free account after installing the app to get everything up and running, but you don't need a paid subscription to get photos/videos of the birds visiting your feeder.

This is honestly one of my favorite things about it – you can buy it once and get photos and activity alerts with no ongoing subscription
Do You Need Wi-Fi for Bird Buddy?
Yes, you need a stable Wi-Fi connection for Bird Buddy to operate and send updates about bird visits through the mobile app. I've found that putting my Bird Buddy outside of my office where my home router is setup makes for a really stable connection so that none of the alerts are missed.
If you put your Bird Budd too far away from your Wi-Fi router, there's a chance that the low signal will mean that you don't get notified consistently when birds arrive.
Who Shouldn't Get the Bird Buddy?
If you live in an area with very few bird visits or you aren't sure you'll be interested in bird-watching, you may not find as much value in Bird Buddy and might prefer to start with a less expensive bird feeder.
Also, this feeder isn't a good fit for anyone who doesn't have a stable Wi-Fi connection. If you're completely not a tech person, like you don't have a smart phone or feel comfortable navigating apps, then you might not enjoy having a Bird Buddy either – because the connection to the app is really what makes this a special feeder.
Is Bird Buddy Legit?
Absolutely, Bird Buddy is a legitimate company offering high-quality smart bird feeders that enhance your bird-watching experience.

We've been fortunate to work with them as an affiliate and test out the products, as well as ask questions and offer feedback, and they've always been responsive and friendly to us.