According to the official Ohio Ornithological Society (OOS) Checklist, there are 443 species of birds that live in the state of Ohio.
Among this huge variety, there are 12 different species of owl, including 8 breeding and 4 rare ones. If you're an avid bird watcher who's interested in finding out more about these birds, keep on reading!
Great Horned Owl
Scientific Name: Bubo virginianus
Length: 18.1 to 24.8 inches (46 to 63 cm)
Weight: 32.1 to 88.2 ounce (910 to 2500 gm)
Wingspan: 39.8 to 57.1 inches (101 to 145 cm)
Kicking off the list is one of the most popular owls in North America. The great horned owl is also known as the "hoot owl" for its popular call sound. This powerful predator is also one of the most well-adapted raptors to live alongside humans, so you can easily spot them lurking around feeders for food as well as in forests, especially at night when they're most active.
The great horned owl is also known as the "Tiger Owl" because it has a characteristic orangey face with black and white lines in contrast that look like a tiger print. It's also popular for its strikingly staring eyes and long ear tufts that also add to its fierce predator persona.
It's so common in Ohio you could say it's a year-round resident.
Barn Owl
Scientific Name: Tyto alba
Length: 12.6 to 15.8 inches (32 to 40 cm)
Weight: 14.1 to 24.7 ounce (400 to 700 gm)
Wingspan: 39.4 to 49.2 inches (100 to 125 cm)
Another fascinating bird is the American Barn Owl. Thanks to their shape and behavior they go by many names, including the "ghost owl", the "church owl", and the "monkey-faced owl"!
This owl is medium in size and has a short tail relative to its rounded long wings, which allow it to fly silently. It also has a very pale and round face with no ear tufts and a brown color beak that looks like a monkey's nose, hence the name.
As the name suggests, this reclusive bird is mostly found around old trees and wooden buildings, such as barns. Just make sure to look for them at night because they're strictly nocturnal and have exceptional low-light sight.
Snowy Owl
Scientific Name: Bubo scandiacus
Length: 20.5 to 27.9 inches (52 to 71 cm)
Weight: 56.4 to 104.1 ounce (1600 to 2950 gm)
Wingspan: 49.6 to 57.1 inches (126 to 145 cm)
Similar to barn owls, snowy owls are also hard to mistake for other owls because of their unique thick, white feathers, which make them a sight to behold. They also have a smooth round smooth head with no ear tufts. This beautiful bird has very sharp and contrasting yellow eyes, with some variations of the bird having different mottling and markings on their wings.
Their breeding season is spent on the Arctic tundra, hence the white plumage, but they migrate south on occasion. This variety of birds is known for perching on fence posts and telephone poles and have a relatively tolerant temper around humans, making them highly desired exotic pets.
Barred Owl
Scientific Name: Strix varias
Length: 16.9 to 19.7 inches (43 to 50 cm)
Weight: 16.6 to 37.0 ounce (470 to 1050 gm)
Wingspan: 39.0 to 43.3 inches (99 to 110 cm)
As you make your way to the region of Northern Ohio, the number of Barred Owls you'll encounter will increase. You can easily identify this bird of prey by its horizontal stripes, which alternate in dark and pale brown. These markings also cover their tail, back, and wings. They also lack ear tufts. But the main distinguishing feature of these owls is that they have a heart-shaped facial disk, reddish-brown body markings, and fully black eyes.
Eastern Screech Owl
Scientific Name: Megascops asio
Length: 6.3 to 9.8 inches (16 to 25 cm)
Weight: 4.3 to 8.6 ounce (121 to 244 gm)
Wingspan: 18.9 to 24.0 inches (48 to 61 cm)
These owls have a wide range of markings and patterns that give them perfect camouflage. They are split into two main varieties, the rufous reddish-brown, and the grey morph.
Despite being strictly nocturnal animals, they're highly adapted to living around the human population and near urban regions.
The eastern screech owls have false ear tufts that they use for threatening competitors and attracting mates.
Long-Eared Owl
Scientific Name: Asio otus
Length: 13.8 to 15.8 inches (35 to 40 cm)
Weight: 7.8 to 15.3 ounce (220 to 435 gm)
Wingspan: 35.4 to 39.4 inches (90 to 100 cm)
Another iconic bird that you'll find in brushy thickets and mature forests around Ohio is the long-eared owl.
The main reason for their name is their freakishly long tufts of feathers over their ears, compared to their medium-sized body and small, oval heads. They have very wide eyes with a white "X" between them that gives them a piercing stare!
Short-Eared Owl
Scientific Name: Asio flammeus
Length: 13.4 to 16.9 inches (34 to 43 cm)
Weight: 7.3 to 16.8 ounce (206 to 475 gm)
Wingspan: 33.5 to 40.5 inches (85 to 103 cm)
The striking similarities between the short-eared owl and the long-eared one are, of course, the main reason why they are similarly named.
Both of these owls are medium in size with rounded heads, but Short-eared owls have a much shorter ear tuft that is practically invisible.
These owls also have brown backs with white and beige mottling on the upper parts. They have a whitish face and yellow eyes, with a dark accent around their edges.
Northern Saw-Whet Owl
Scientific Name: Aegolius acadicus
Length: 7.1 to 8.3 inches (18 to 21 cm)
Weight: 2.3 to 5.3 ounce (65 to 151 gm)
Wingspan: 16.5 to 18.9 inches (42 to 48 cm)
The Northern Saw-whet Owl is one of the smallest owls in the U.S. In fact, an adult can be as small as some other large species' chicks.
This small, avian predator is found in decent numbers because they're native to North America. However, you may have a hard time spotting them because of their highly elusive nature. They usually nest in dense foliage and have a pretty loud call that you can rely on to get you closer to the bird.
Their bodies are mostly brown and their faces are white, mottled with black spots, with an undefined facial disk.
Now that we've covered the eight breeding owl species of Ohio, it's time to discuss other species that also range throughout the state but are identified as rare species according to state records.
Boreal Owl
Scientific Name: Aegolius funereus
Length: 8.3 to 11.0 inches (21 to 28 cm)
Weight: 3.3 to 7.6 ounce (93 to 215 gm)
Wingspan: 21.6 to 24.4 inches (55 to 62 cm)
The boreal owl is known for its small body and relatively big, round head. They have small ear tufts and unique whitish mottling across their facial disk, which makes them easy to identify.
Northern Hawk Owl
Scientific Name: Surnia ulula
Length: 14.2 to 17.7 inches (36 to 45 cm)
Weight: 8.5 to 16.0 ounce (240 to 454 gm)
Wingspan: 27.9 inches (71 cm)
The Northern Hawk owl is another rare owl of Ohio. It's a medium-sized raptor with a long, pointed tail and an oval-shaped body. You can usually spot it near water in marshes and in open coniferous forests, especially during winter.
The Northern hawk owl is one of the few owl species that are mainly diurnal, which means that they're active during the day. However, they can also stay active at night.
Burrowing Owl
Scientific Name: Athene cunicularia
Length: 7.5 to 9.8 inches (19 to 25 cm)
Weight: about 5.3 oz (150 gm)
Wingspan: 21.6 inches (55 cm)
Similar to the Northern Hawk Owl, the Burrowing owl is mostly active during the day, unlike most other owls. They typically live in the northwest United States. However, some birders have reported sightings of the bird in the state.
They're identified by their slender legs and round heads with no ear tufts. They have mostly brown feathers with mottling all over their body and have sharp yellow eyes.
Great Gray Owl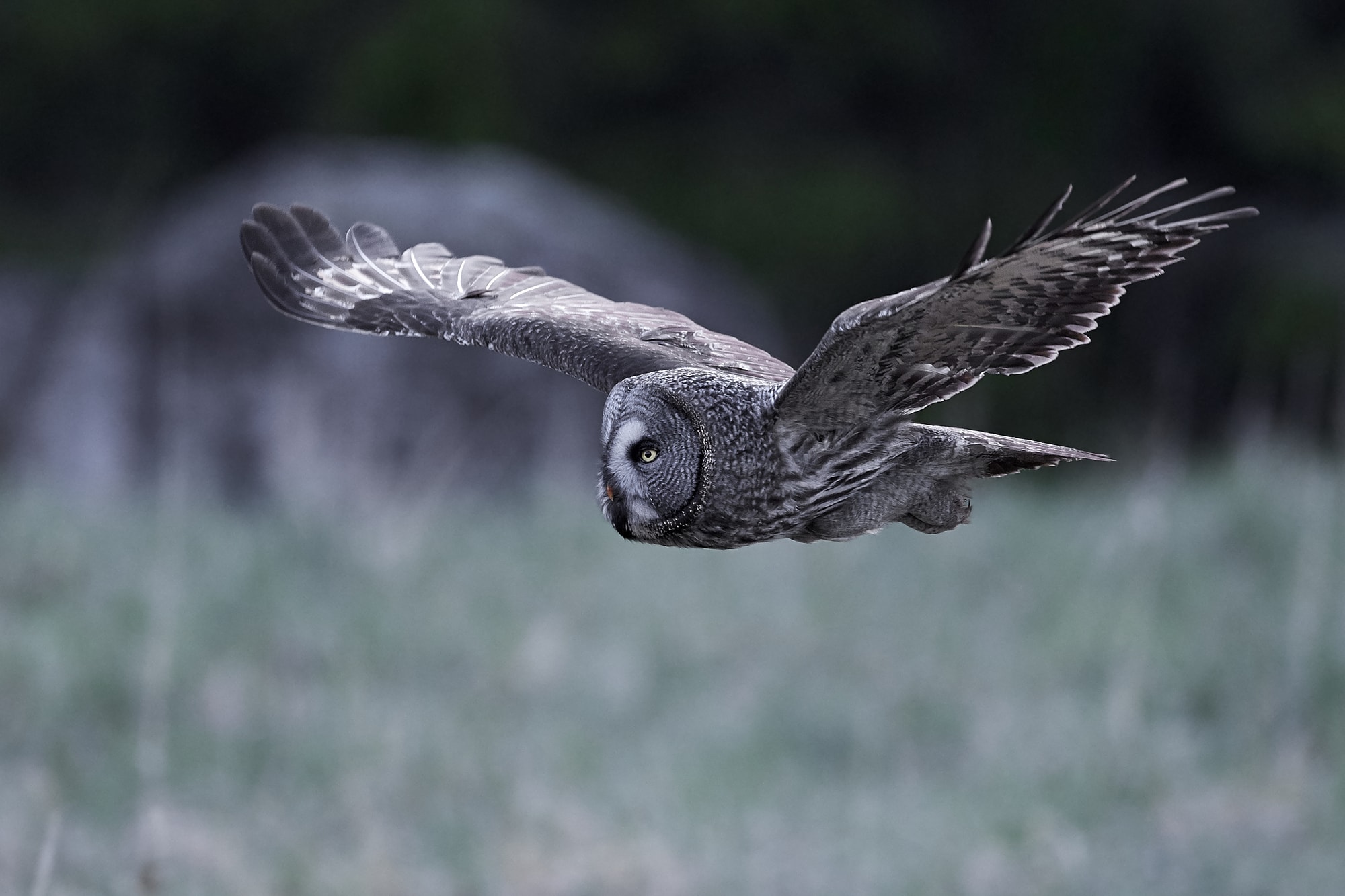 Scientific Name: Strix nebulosa
Length: 24.0 to 33.1 inches (61 to 84 cm)
Weight: 24.7 to 60.0 oz (700 to 1700 gm)
Wingspan: 53.9 to 60.2 inches (137 to 153 cm)
Lastly, the Great Gray Owl is one of the most majestic owls in the U.S. It's also one of the larger animals on our list. However, you'd be really lucky if you spot this beautiful animal in Ohio because they're typically rare in the state. They're also very easy to identify thanks to their large oval facial disk and the white bowtie shape across their necks.
Wrap Up
You can see, the Buckeye state isn't only the birthplace of aviation, but it's also home to some of the most popular owl species in the world.
So, next time you're in Ohio, take some extra time and make sure that you take a look around to enjoy this amazing diversity!