New York is an exciting state for birders.
We have everything from colorful tanagers and bluebirds to stunning birds of prey. Waterfowl, hummingbirds, and corvids all live in or visit New York State every year.
One of the reasons why New York is such a good place for all these birds is that it has a little bit of everything: coastline, human-built structures, fields, mountains, rivers, forests, streams, lakes, farms, and so much more.
20 different kinds of sparrows spend at least part of the year in New York. Only the House Sparrow and the Song Sparrow are consistently here year-round, but others are here for either the summer or winter. Still a few more stop by here as they migrate.
What, Exactly, Is a Sparrow?
The Spruce says that "sparrow" is the label given to "a wide range of relatively small, mostly drab brown birds, which birders often call 'LBJs' or 'little brown jobs' because they can be notoriously difficult to identify."
Although many sparrows have "sparrow" right there in their names, there are others in this family of birds that are called something else: buntings, towhees, or juncos, for example.
Sparrows are songbirds and are part of the Passerine family. They are usually quite small (between 4-8 inches long) and mostly brown. They are exceedingly good at camouflage, but you may hear them before you see them.
A sparrow's bill is short, stocky, and cone-shaped.
How Many Sparrows Are in New York?
There are certainly more than 20 sparrows that have been documented in New York State. However, only 20 are regular visitors, residents, or migrants.
We're not going to include those incredibly rare sparrows on our list — the ones that may have only been spotted once in 100 years. Instead, we're looking at sparrows that you have a real chance of seeing in New York.
To help you identify sparrows, we are focusing on a few key things in these descriptions:
The sparrow's general appearance (size, weight, colors, patterns)
Where it lives in New York
When it can be found in New York
Any interesting behaviors you might observe
It's not always easy to ID sparrows. So many of them look so much alike!
But that means sparrow-spotting can be a really fun and rewarding challenge for more experienced birders. And because sparrows are so commonplace, it can also be fun for beginners!
To make our list easier to use, we have divided up the birds into four categories: year-round sparrows in New York, summer-only sparrows, winter-only sparrows, and migration-only sparrows.
Let's get started!
Year-round Sparrows in New York
Only two kinds of sparrows live in New York all year round: the House Sparrow and the Song Sparrow. Let's learn about these two little brown birds.
House Sparrow
Passer domesticus
ORDER: Passeriformes
FAMILY: Passeridae
Length: 5.9-6.7 in (15-17 cm)
Weight: 0.9-1.1 oz (27-30 g)
Wingspan: 7.5-9.8 in (19-25 cm)
House Sparrows like to live in and around human-made structures. They often nest in the beams and rafters of houses and barns, which is how they get their name.
They are considered to be a well-established invasive species, and they can cause problems for native birds. They outcompete native birds for territory, nesting spaces, and food. They have even been known to kill other adult birds and hatchlings!
Male House Sparrows are gray-headed with white cheeks, a black bib, and a rufous-colored neck. Females are mostly brown with stripes on their backs.
They are non-migratory birds, which means that their populations stay consistent throughout the year. House Sparrows thrive in cities, which makes New York's large urban centers an excellent home for them.
Song Sparrow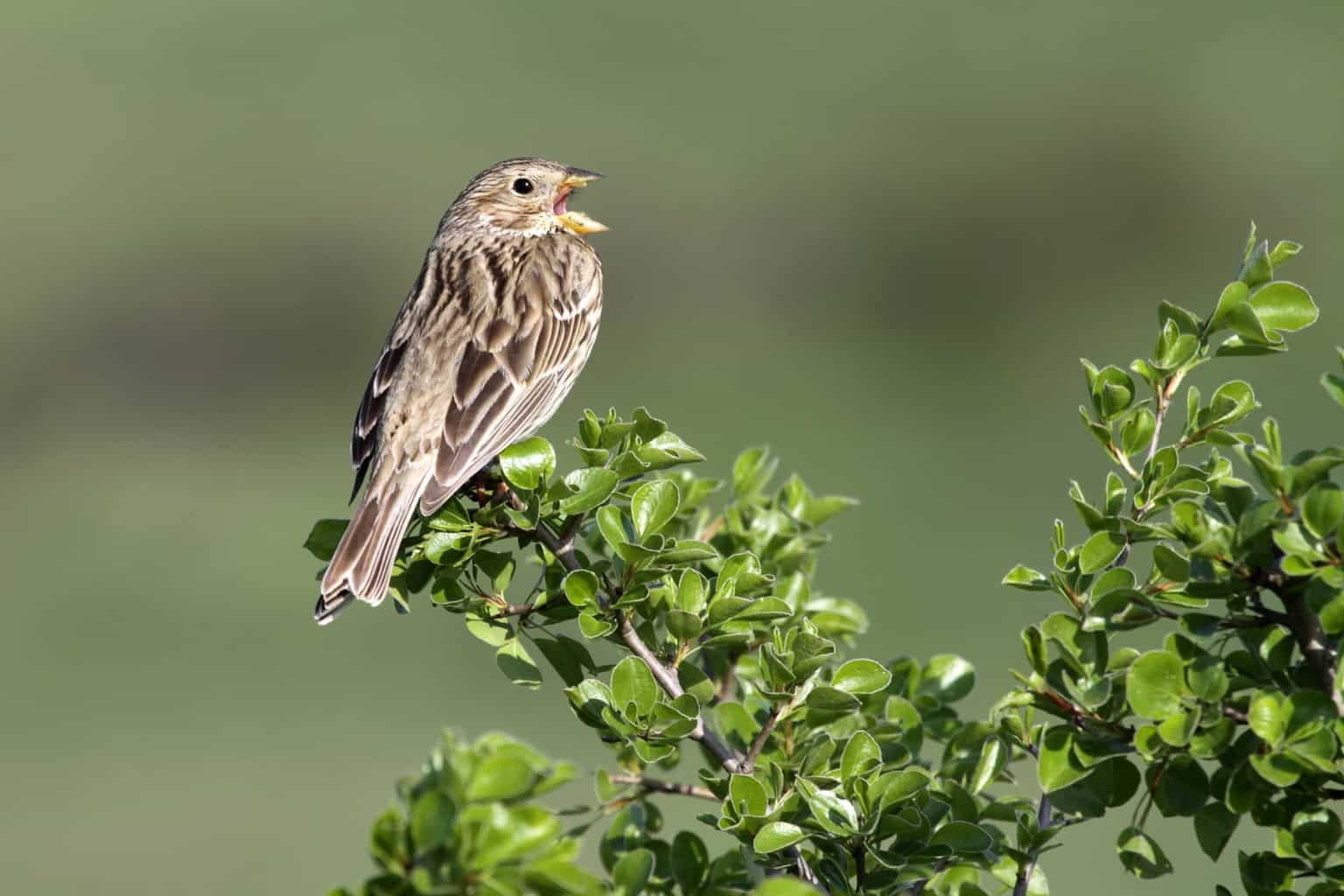 Melospiza melodia
ORDER: Passeriformes
FAMILY: Passerellidae
Length: 4.7-6.7 in (12-17 cm)
Weight: 0.4-1.9 oz (12-53 g)
Wingspan: 7.1-9.4 in (18-24 cm)
Song Sparrows are one of the many sparrows that have some significant differences in appearance based on where they live. Regardless of region, though, Song Sparrows are brown with white streaks on their chests. The amount of streaking varies, and their coloring ranges from light to reddish brown. They have thick white flanks.
An unusual habit of the Song Sparrow is to return to the same nesting grounds, year after year. In fact, they will even return to the same nest! If a Song Sparrow abandons a nest, another one will move right in.
Song Sparrows are year-round residents of New York. They are found throughout the state.
Summer-only Sparrows in New York (Breeding Season Residents)
12 kinds of sparrows spend the summer in New York, where they breed and raise their young. This list includes: the Chipping Sparrow, the Clay-Colored Sparrow, the Eastern Towhee, the Field Sparrow, the Grasshopper Sparrow, Henslow's Sparrow, the Saltmarsh Sparrow, the Savannah Sparrow, the Seaside Sparrow, the Swamp Sparrow, the Vesper Sparrow, and the White-Throated Sparrow.
Chipping Sparrow
Spizella passerina
ORDER: Passeriformes
FAMILY: Passerellidae
Length: 4.7-5.9 in (12-15 cm)
Weight: 0.4-0.6 oz (11-16 g)
Wingspan: 8.3 in (21 cm)
The Chipping Sparrow has crisp brown lines streaking his wings and back. He also has a cute little rufous-brown cap on his head that makes him easier to identify than some of the other, more similarly-patterned sparrows.
Females are darker than males.
Chipping Sparrows have a loud, trilling song that can be heard from far away. Listen for this song in the summer to know that Chipping Sparrows are nearby.
These little birds breed throughout almost the entire US and Canada. Their fall migration takes them to Florida, Southern California, the Caribbean, and both coasts of Mexico.
During the summer, Chipping Sparrows contribute to pest control by eating a diet rich in insects and bugs, including grasshoppers, crickets, leafhoppers, beetles, caterpillars, and some spiders.
Although they are found throughout all of New York during the summer, they are most likely to be found in both forests and grasslands. They build a cup-shaped nest out of grass, weeds, and small pieces of tree roots. They prefer to nest in conifers.
Clay-Colored Sparrow
Spizella pallida
ORDER: Passeriformes
FAMILY: Passerellidae
Length: 5.1–6 in (130–150 mm)
Weight: 12 g (0.42 oz)
Wingspan: 7.5 in (190 mm)
The Clay-Colored Sparrow has a pale gray collar around his neck, which can help you recognize him. They are otherwise tan and gray, with an overall pale appearance. They have fine, thin streaks atop their heads and slightly darker cheeks.
Their breeding habitat includes shrubby woodlands, the edges of fields, and prairie thickets. They can be found in Christmas tree farms — many of which are located in Western New York. They live in conifer trees during the breeding season and then migrate to desert grasslands for the winter.
There are very few places in New York State where Clay-Colored Sparrows can be found. There are basically two small patches of territory in the Finger Lakes where they are willing to spend the summer.
Eastern Towhee
Pipilo erythrophthalmus
ORDER: Passeriformes
FAMILY: Passerellidae
Length: 6.8-8.2 in (17.3-20.8 cm)
Weight: 1.1-1.8 oz (32-52 g)
Wingspan: 7.9-11.0 in (20-28 cm)
Eastern Towhee males look very different from your average streaky brown sparrow. He is tri-colored, with a dark black head, back, and neck. His belly is white, and he has rufous-brown sides.
Females are brown and white instead of black and white.
Eastern Towhees have a call that sounds like chewink. They are excellent at camouflage and will hide among the underbrush. They usually build their cup-shaped nests on the ground, but sometimes they will nest in tangles of grapes, honeysuckle, or greenbrier, up to 4 feet off the ground.
They are more likely to be found in shrubby fields and woodlands with lots of ground cover.
Field Sparrow
Spizella pusilla
ORDER: Passeriformes
FAMILY: Passerellidae
Length: 4.7-5.9 in (12-15 cm)
Weight: 0.4-0.5 oz (11-15 g)
Wingspan: 7.9 in (20 cm)
There aren't any significant differences between male and female Field Sparrows. They both have gray bodies and brown streaks on their backs and wings. Their eyes are ringed in white, and they have pink bills and rusty-brown caps.
They tend to avoid people and cities, so you are less likely to see Field Sparrows in places like New York City, Albany, Buffalo, Syracuse, etc. Although they are mostly summer-only birds in New York, some will stay year-round in the Hudson Valley area.
Instead, they prefer open fields and prairies. Suburban expansion is a likely cause of the Field Sparrow's declining numbers.
Grasshopper Sparrow
Ammodramus savannarum
ORDER: Passeriformes
FAMILY: Passerellidae
Length: 4.3-4.5 in (10.8-11.5 cm)
Weight: 0.5-0.7 oz (14-20 g)
Wingspan: 7.9 in (20 cm)
To identify a Grasshopper Sparrow, listen for its signature "buzzzzz" sound. These birds get their name from the buzzy insect-sounding noise they make. Unlike most other sparrows, Grasshopper Sparrows also have a secondary song: a squeaky, musical song that males sing while flying.
Their appearance is fairly muted. They have stubby tails and flat heads, and their bill is large compared to other sparrows. They also have thicker necks.
Their coloring ranges from light brown and gray to light orange.
Grasshopper Sparrows nest in grasslands and prairies and are less dependent on ground cover than other, shier sparrows.
Henslow's Sparrow
Centronyx henslowii
ORDER: Passeriformes
FAMILY: Passerellidae
Length: 4.7-5.9 in (12-15 cm)
Weight: 0.4-0.6 oz (11-16 g)
Wingspan: 8.3 in (21 cm)
You won't find Henslow's Sparrows in most of New York, but they are summer residents of the Finger Lakes, Chautauqua, and the Greater Niagara area. Unfortunately, their numbers have been affected by habitat loss related to agricultural development.
Henslow's Sparrows have a plain, buff coloration with some pale green shading. Their back and wing stripes are stark and black.
Henslow's Sparrows nest on or close to the ground. Their nests are well hidden from curious humans or, of course, animal and bird predators. They create an archway of grass over their nests to help them stay hidden.
These sparrows eat lots of insects in the summer, including stink bugs, crickets, caterpillars, beetles, and grasshoppers. They will even eat wasps, which makes them a pretty popular addition to any backyard bird community.
After they migrate to the Southeast for the winter, they transition to a diet that is mostly made up of seeds.
Saltmarsh Sparrow
Ammospiza caudacuta
ORDER: Passeriformes
FAMILY: Passerellidae
Length: 4.7-5.1 in (12-13 cm)
Weight: 0.6-0.8 oz (17.1-24.1 g)
Wingspan: 6.5-7.7 in (16.5-19.5 cm)
Saltmarsh Sparrows are only found along a narrow strip of Atlantic coastline from Maine to Florida. In New York, they are breeding residents whose numbers are on the decline.
These sparrows are dark gray on top and brownish-cream underneath. They are slightly yellowish, too, with white stripes on their back. They have orangeish-brown faces.
Saltmarsh Sparrows are hard to spot, as they are excellent at hiding in the marshy vegetation on the water's edge. They will nest so close to the water that sometimes, high tide will overtake the nest and then recede.
Savannah Sparrow
Passerculus sandwichensis
ORDER: Passeriformes
FAMILY: Passerellidae
Length: 4.3-5.9 in (11-15 cm)
Weight: 0.5-1.0 oz (15-28 g)
Wingspan: 7.9-8.7 in (20-22 cm)
The easiest way to identify a Savannah Sparrow is to look for the yellow line between its eyes and bill that looks a bit like an eyebrow. Additionally, the Savannah Sparrow has a small head and crown, a sharp bill, and some dark streaking on the back and wings.
Their breeding territory stretches across much of North America, especially in Canada and the northern US. They nest in thick, dead grasses from the previous year. They are found throughout New York.
Even though their nests are protected, Savannah Sparrows are bolder than other sparrows. They will make their signature insect-like buzzing sound from out in the open, rather than hiding away in the underbrush.
Seaside Sparrow
Ammospiza maritima
ORDER: Passeriformes
FAMILY: Passerellidae
Length: 5.1-5.9 in (13-15 cm)
Weight: 0.7-1.0 oz (19-29 g)
Wingspan: 7.1-7.9 in (18-20 cm)
There is a lot of regional variation in the appearances of Seaside Sparrows. The ones in New York are dark gray on top and pale underneath. Right in front of their eyes is a yellow spot, and they have an off-white throat. Their belly and chest are streaked in very light gray.
Further south, they are much darker in color.
They live along the salt marshes of the Atlantic Coast. The aquatic grasses of these marshes protect them from predators and bad weather.
Their legs are long because they need to be able to forage in the mud for their diet, which is mostly made up of insects.
Swamp Sparrow
Melospiza georgiana
ORDER: Passeriformes
FAMILY: Passerellidae
Length: 4.7-5.9 in (12-15 cm)
Weight: 0.5-0.8 oz (15-23 g)
Wingspan: 7.1-7.5 in (18-19 cm)
The Swamp Sparrow has a long tail and a round body. Their shape is quite similar to the Song Sparrow.
Their dark coloring helps birders to differentiate them from other New York sparrows. They have rusty-brown wings and a rusty-brown head, while their undersides are grayish-white.
In the Chautauqua, Greater Niagara, Hudson Valley, and Long Island regions, they are year-round residents. In the rest of the state, they are only here for the breeding season.
They are good at foraging in the mud, especially as they have developed long, strong legs. They eat seeds, fruits, and invertebrates and protect themselves by staying hidden in the underbrush.
Vesper Sparrow
Pooecetes gramineus
ORDER: Passeriformes
FAMILY: Passerellidae
Length: 5.1-6.3 in (13-16 cm)
Weight: 0.7-1.0 oz (20-28 g)
Wingspan: 9.4 in (24 cm)
The Vesper Sparrow is one of North America's largest sparrows. They have chestnut brown shoulder patches and white eyerings. Otherwise, their body is streaky brown.
Vesper Sparrows got their name from their beautiful song, which they sing at dusk. That's the time of day when traditional Vespers services are held.
They spend most of their time in tall grasses, but they will also sing from a perch. They are summer residents of New York, although they are not usually found around Saratoga.
They nest right on the ground, but in addition to nesting near the cover of tall grass, they will also build their nests next to a protective log or fallen branch.
White-Throated Sparrow
Zonotrichia albicollis
ORDER: Passeriformes
FAMILY: Passerellidae
Length: 6.3-7.1 in (16-18 cm)
Weight: 0.8-1.1 oz (22-32 g)
Wingspan: 7.9-9.1 in (20-23 cm)
White-Throated Sparrows have a signature white throat and a dark brown body. They have thick black stripes atop their head and going across their eyes. Their lores (the spaces between the eye and the bill) are bright yellow, like a colorful eyebrow.
They sometimes mate with Dark-Eyed Juncos, creating a dull hybrid.
They are year-round residents of much of New York, but they are only in the Adirondacks for the summer. Their nests are usually on or near the ground, but they will sometimes build a nest up to 15 feet in the air. Often, an elevated nest means that it is the second nest after the first one was predated.
Winter-season Sparrows in New York
Only a handful of sparrows spend the winter in New York but leave to nest and breed elsewhere. These winter-only sparrows are: The American Tree Sparrow, the Dark-Eyed Junco, and the White-Throated Sparrow.
American Tree Sparrow
Spizelloides arborea
ORDER: Passeriformes
FAMILY: Passerellidae
Length: 5.5 in (14 cm)
Weight: 0.5-1.0 oz (13-28 g)
Wingspan: 9.4 in (24 cm)
American Tree Sparrows have a dark red crown and a gray body. They have stripes on their wings, and some have a red patch on the breast.
They breed across Canada, including in the tundra. Then they migrate through New England and much of the northern half of the US, where they stay for the winter. In New York, they live in thick bushes along the roadside and in marshes.
They often perch on goldenrods, especially along snowy fields.
They eat a lot, as they need to consume 30% of their body weight in food daily, and another 30% in water.
Dark-Eyed Junco
Junco hyemalis
ORDER: Passeriformes
FAMILY: Passerellidae
Length: 5.5-6.3 in (14-16 cm)
Weight: 0.6-1.1 oz (18-30 g)
Wingspan: 7.1-9.8 in (18-25 cm)
Dark-Eyed Juncos have a bi-color appearance: from above, they are dark gray or dark brown, and from below, they are pale white. The Dark-Eyed Junco has a pink bill and white outer tail feathers.
They are found in coniferous and mixed-coniferous forests. They are especially prevalent in the mountains, but they are also common visitors to backyard feeders.
These cute little birds are always on the go. You'll see them actively flitting about in fields, backyards, parks, and more.
Because they are associated with winter in so many places, Dark-Eyed Juncos are sometimes called "snowbirds."
Migratory Sparrows in New York
4 kinds of sparrows migrate through New York but don't breed in the state or stay here for the winter: the Fox Sparrow, Lincoln's Sparrow, Nelson's Sparrow, and the White-Crowned Sparrow.
Fox Sparrow
Passerella iliaca
ORDER: Passeriformes
FAMILY: Passerellidae
Length: 5.9-7.5 in (15-19 cm)
Weight: 0.9-1.6 oz (26-44 g)
Wingspan: 10.5-11.4 in (26.7-29 cm)
Fox Sparrows are usually brownish-red and gray with thick brown spots on their chests.
They kick through the leaf litter on the ground to forage for insects, often sending a spray of leaves, dirt, and litter into the air. They will also do this under birdfeeders. If you notice a particularly messy sparrow, it might be a Fox Sparrow!
Fox Sparrows migrate through all of New York State, so you can see one just about anywhere during the spring and fall. They tend to hide in the brushy undergrowth that protects them from predators.
Interestingly, Fox Sparrows are found around the globe. They probably didn't migrate to other continents from North America, but rather, they traveled elsewhere on ships.
Lincoln's Sparrow
Melospiza lincolnii
ORDER: Passeriformes
FAMILY: Passerellidae
Length: 5.1-5.9 in (13-15 cm)
Weight: 0.6-0.7 oz (17-19 g)
Wingspan: 7.5-8.7 in (19-22 cm)
Lincoln's Sparrows have gray feathers that are streaked with dark brown stripes. They have rusty-brown tips on their tails and wings, a white belly, and a pale-colored mustache. Down the middle of their crown, you will see a light gray stripe.
Their crown can just barely raise and lower, which gives it the appearance of a very small crest.
They migrate through New York as they move between their summer territory in Canada and their winter territory in the Southwestern US.
In Canada, they breed in wet meadowlands, especially in elder trees, sedges, and willows. When they migrate, they sing a musical song from their hiding spaces in thickets and along the edges of the forest.
Nelson's Sparrow
Ammospiza nelsoni
ORDER: Passeriformes
FAMILY: Passerellidae
Length: 4.3-5.1 in (11-13 cm)
Weight: 0.6-0.7 oz (17-21 g)
Wingspan: 6.5-7.9 in (16.5-20 cm)
Neslon's Sparrows are mostly pale yellow with markings on the face that look like whiskers. They also have yellow eyebrows. Inland Nelson's Sparrows are darker than their coastal counterparts.
They stop on the coast of Lake Erie during their migration, so watch for them in the Spring and Fall.
They are named after the American naturalist Edward William Nelson. Interestingly, they didn't get their name until 2009, which is when they were differentiated from Saltmarsh Sparrows. Saltmarsh and Nelson's Sparrows used to be thought of as one species: the Sharp-Tailed Sparrow.
White-Crowned Sparrow
Zonotrichia leucophrys
ORDER: Passeriformes
FAMILY: Passerellidae
Length: 5.9-6.3 in (15-16 cm)
Weight: 0.9-1.0 oz (25-28 g)
Wingspan: 8.3-9.4 in (21-24 cm)
The White-Crowned Sparrow is large for a sparrow, but still a relatively small bird. They raise and lower their crown as part of their communication with other sparrows.
They are relatively plain, with muted coloring and some black and white stripes on their heads. They have a rounded body and a colorful bill — either pink or yellow, depending on the individual.
They are migratory visitors to New York, and you may see them in backyards, at feeders, and along the roadsides. Some may spend the winter in the Hudson Valley area.
Go Find Some Sparrows in New York
With so many birds in New York, there are always new birding adventures to embark on. You can add these 20 sparrows to your life list by paying close attention to when and where you saw each one.
It can be difficult to take a good picture of a tiny sparrow from far away without an excellent camera or spotting scope, but a good pair of binoculars should help a lot! You can get a good look at the bird from a distance, make notes, and take a look at this list after the fact.
Whether you are a resident of New York or just a visitor, have a great time birding in the Empire State!