Kool-Aid and the Reuben sandwich may be Nebraska's claims to fame, but an avid birdwatcher knows the 465 species of birds (including 96 kinds of accidental visitors) found in the state are the real stars of the show.
Should you find yourself in the Cornhusker State, try to visit one of the state's five national parks and two national forests to catch a glimpse of the 11 beautiful owl species that have made their homes there.
Don't know how to identify those owls? No sweat! We've got you covered. Read on to learn more about these birds of prey, from what they look like to exactly where to find them.
Great Horned Owl
Scientific Name: Bubo virginianus
Length: 17-25 inches
Weight: 32-88 ounces
Wingspan: 3-5 feet
Great horned birds are some of the largest owls, and they're widely spread across Nebraska, usually found in the Pine Ridge area. They have mottled grey-brown bodies and produce deep hoots that can be heard from quite a ways away.
The great horned owl roosts in an erect position (to help it remain camouflaged) during the day and hunts at night.
This owl can take on prey larger than it is, including other owls and raptors, but in most cases, the bird attacks mice, rabbits, lizards, and smaller birds. More than 500 species qualify as the great horned owl's prey, and it's even been known to attack dogs, cats, and humans! In some cases, the prey might harm or even kill the owl, especially if it's a rat snake or porcupine.
Unlike other owls, the great horned owl has a poor sense of smell, so it can feed on the skunks other owls usually avoid.
Eastern Screech-Owl
Scientific Name: Megascops asio
Length: 6.3-9.8 inches
Weight: 4.3-8.6 ounces
Wingspan: 18-24 inches
The eastern screech-owl can be found east of the Rocky Mountain Range in Nebraska. It's a small owl with a mottled body, and its plumage can be red, brown, or grey.
Eastern screech-owls also sport ear tufts on their heads, which they usually use for communication or to scare off their enemies. And speaking of enemies…eastern screech-owls don't really get along with songbirds, so if you see a mob of the smaller birds screaming and flying around, they may be trying to scare one of these owls away.
This owl is nocturnal and roosts in tree cavities during the day. You can also find it near residential areas, but finding it won't be an easy feat for a birder.
The eastern screech-owl feeds on a variety of large insects, birds, rodents, and invertebrates. Due to the versatility of its prey, the owl is often called the feathered wildcat. In times when food is abundant, the bird is likely to store the excess in tree cavities.
Barred Owl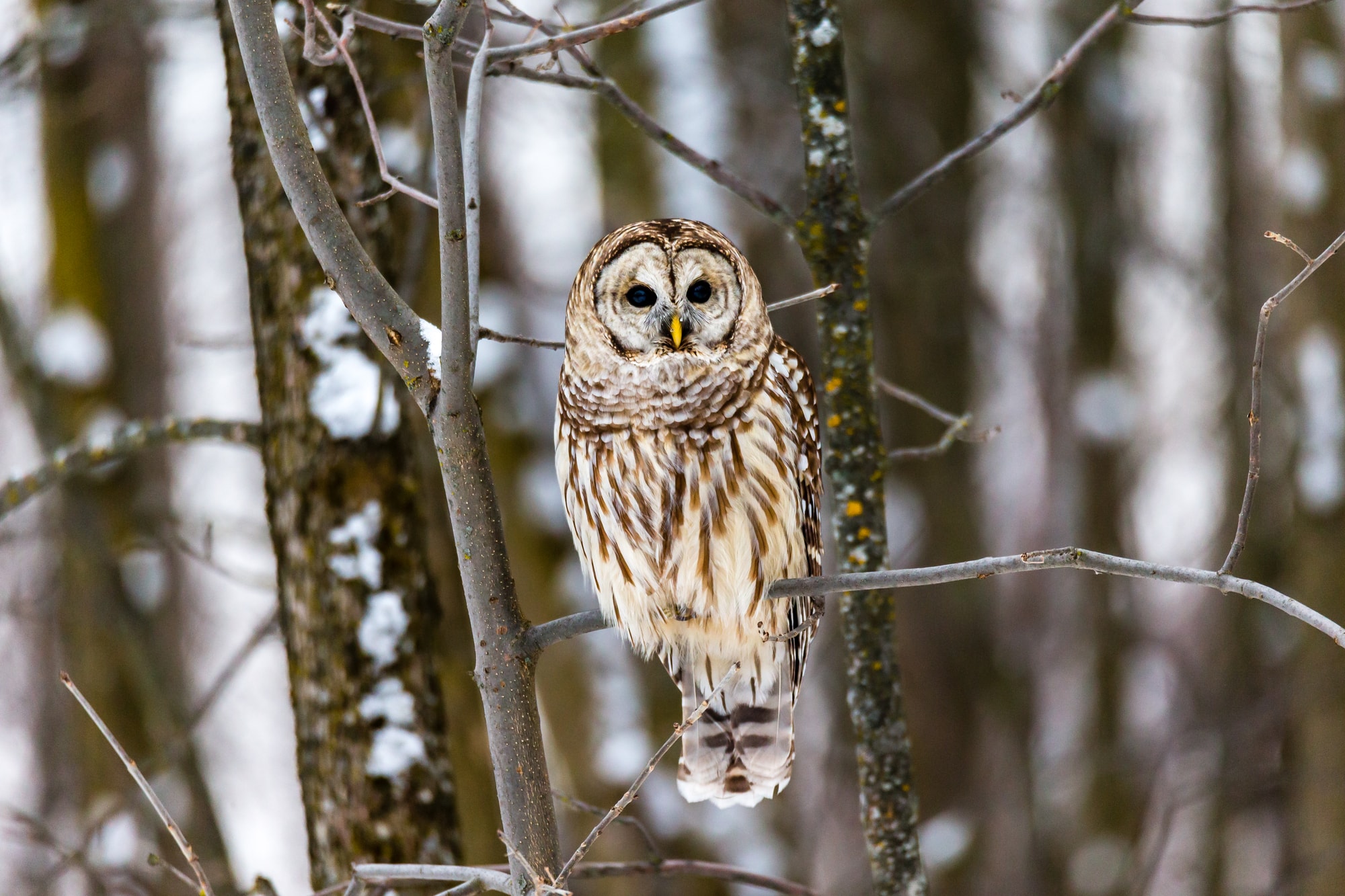 Scientific Name: Strix varia
Length: 16-25 inches
Weight: 16.6-37 ounces
Wingspan: 38-49 inches
The barred owl's body is covered in brown to grey feathers and it has big eyes that allow nighttime hunting. It's also a powerful vocalist with a number of interesting and intriguing calls that can be heard from up to half a mile away. You've probably heard it before, as its famous call is usually heard in movies.
Barred owls usually look for cavities in old-growth forests and wooded areas. It doesn't rely on camouflage abilities; instead, it stays undetected by flying silently. When discovered during the day, the barred owl is usually mobbed by corvids, woodpeckers, and mammals.
They usually hunt from perches and feed on mammals, arthropods, and invertebrates, but when other food isn't available, it isn't uncommon for barred owls to feed on fish and amphibians.
Snowy Owl
Scientific Name: Bubo scandiacus
Length: 20-25 inches
Weight: 2.9-5.5 pounds
Wingspan: 46-65 inches
December and January are the best months for spotting a snowy owl in Nebraska. This regular winter visitor of the Cornhusker State is one of the biggest owls in the world and sports pure white plumage (though it appears less pure in females).
Most snowy owls sleep during the day and hunt at night, although they might participate in some daytime activity. The owl has several strong calls, and they can be heard from as far as over six miles away.
Snowy owls can walk — even sprint! They usually hunt lemmings during the winter months, but in the summertime, the bird hunts voles, rabbits, ducks, and seabirds, plus a few fish and amphibians. It swallows its prey whole before regurgitating the indigestible remains in oval pellets.
Long-Eared Owl
Scientific Name: Asio otus
Length: 12-16 inches
Weight: 7.8-15.3 ounces
Wingspan: 34-40 inches
This slim, long-winged owl has brownish or greyish plumage and erect ear tufts. The asymmetrical ear slits allow the owl to absorb sound from both above and below, improving its hearing.
The long-eared owl has a variety of calls, and in some cases, its cry can be heard from over a mile away. During the day, this owl roosts in an upright position on a branch, and at night, it usually hunts, dividing its hunting into different phases.
The long-eared owl hunts 478 species of prey, including rodents, birds, and amphibians, but its favorite foods are voles, pocket mice, kangaroo rats, and bats. It competes for resources with the short-eared and barn owl species.
Short-Eared Owl
Scientific Name: Asio flammeus
Length: 13-17 inches
Weight: 7.3-16.8 ounces
Wingspan: 33-43 inches
The short-eared owl is a medium to large bird that's covered in brown buff feathers and has a barred tail and wings. You'll usually find it with the long-eared owl, but they have different colored beaks and calls as well as different habitat preferences.
Although most of its hunting occurs at night, the short-eared owl is diurnal or crepuscular.
You'll find this owl flying about a foot off the ground to catch its favorite prey: voles, mice, shrews, and rats. It nests on the ground, and if it needs to lure predators away from the nest, it pretends to have a crippled wing.
Barn Owl
Scientific Name: Tyto alba
Length: 13-15 inches
Weight: 14.1-24.7 ounces
Wingspan: 31-37 inches
Although it doesn't fit the definition of a true owl, the barn owl is included in our list of owls in Nebraska. You can find it in several parts of the state, including the North Platte Valley, and you'll recognize it by its pale body, buff-grey feathered wings, and deep black eyes.
Barn owls usually hunt at night, using their acute hearing to target animals on the ground. Their diet includes amphibians, lizards, and insects. They usually roost in abandoned barns and cavities in dense trees.
Most owls of this species usually mate for life, and you can attract a mating pair to your backyard by setting up a nesting box.
Burrowing Owl
Scientific Name: Athene cunicularia
Length: 7.5-11 inches
Weight: 4.9-8.5 ounces
Wingspan: 20-24 inches
This sandy-colored small bird lives in underground burrows dug by ground squirrels or prairie dogs, and you'll find it in western Nebraska in the summertime.
Unlike most owls, females and males of this species are the same size.
This owl hunts at night, relying on its hearing and vision. Burrowing owls line their nests with animal feces to attract dung beetles they can eat later. It also makes a meal of insects, lizards, and mammals, and it has lots of natural predators, including snakes, badgers, and coyotes.
When threatened, the bird stays in its burrow, producing a hissing sound that mimics a rattlesnake. Unfortunately, though, burrowing owls still stand a chance of being killed by a car while crossing the road.
Northern Saw-Whet Owl
Scientific Name: Aegolius acadicus
Length: 6.7-8.7 inches
Weight: 1.9-5.3 ounces
Wingspan: 16.5-22.2 inches
The northern saw-whet owl is a small bird that usually spends its breeding season in the northern and western regions of Nebraska. It can be found at eye level and makes a continuous tooting or whistling sound that becomes more prominent during the mating season between April and June.
The northern saw-whet owl has a mottled brown body and white wing spots. It also has asymmetrical ears that allow the sound to reach at different times to help it more accurately find its prey and hunt in complete darkness. It feeds on rodents, like voles and deer mice, and has several natural predators like larger raptors.
Northern saw-whet owls compete with boreal owls and squirrels for nest cavities, and songbirds usually harass them in hopes of making them fly away.
Boreal Owl
Scientific Name: Aegolius funereus
Length: 8.7-10.6 inches
Weight: 3.3-7.6 ounces
Wingspan: 20-24 inches
The boreal owl is a small owl with brown and white plumage. It usually sits on a perch and hunts by night, waiting for small mammals, birds, and insects. Because they're shy birds, boreal owls are rarely seen by humans. But if you're determined to see one, note that breeding populations will be attracted to nest boxes in your backyard should you set them up.
This bird has excellent hearing, thanks to its asymmetrical ear openings. And because it likely spends its days listening for its prey, it roosts silently most of the time. However, you may hear it between February and April when it produces a series of low hoots that progressively get louder. Males usually sing to maintain their territory.
When it catches sight of its prey, the boreal owl glides to grab its food with its talons.
Northern Hawk-Owl
Scientific Name: Surnia ulula
Length: 14.2-16.7 inches
Weight: 11 ounces
Wingspan: 18 inches
The large northern hawk owl imitates its namesake, the hawk, by looking for its prey by day. It usually flies close to the ground and can detect its prey from about a mile away. Then, once it catches sight of it, it flies with steady wingbeats before plunging to catch it. Northern hawk-owls feed on mammals like voles and mice as well as jays, robins, starlings, and sparrows.
You'll see the northern hawk-owl, dressed in brown and white-spotted feathers, nesting in abandoned woodpecker cavities or holes in broken tree trunks. It lines the bottoms of its nests with pellets and fur from its prey.
Wrap Up
A trip to Nebraska is the perfect chance to study lots of amazing birds, and if you're interested in owls, give bird-calling a chance and wait for a response — you might be surprised at who talks back!