Oregon is known for its wild west past, but today, it's a great attraction for nature lovers who like to watch and study its amazing birds. Almost half of the state is covered in forests, but you can explore many other habitats if you want to study birds in Oregon.
Currently, there are about 542 species of birds that live in Oregon. Some of them stay temporarily, while others were introduced due to human interaction.
According to the last statistics, there are 97 Important Bird Areas in Oregon, covering more than 3,800,000 acres. In this article, we'll tell you about the most famous bird species that you can encounter.
Red Birds in Oregon
House Finch
Scientific Name: Haemorhous mexicanus
Length: Between 5 and 6 inches
Weight: Between 0.6 and 0.9 ounces
Wingspan: Between 8 and 10 inches
The House Finch is found throughout Oregon, especially in the lowlands, rural, and urban areas. It becomes more sociable in winter when the birds form flocks of 50 birds or more.
The male House Finch has a bright rosy red plumage with dark brown spots above the wings, while the females are dull grayish-brown. Throughout the bird's life, the brightness of the plumage changes. Their diet also affects the color of their feathers.
This bird mainly feeds on plants. It eats fruits like cherries and figs but also feeds on seeds. Filling your feeder with black oil sunflower seeds will attract this bird to your backyard.
Summer Tanager
Scientific Name: Piranga rubra
Length: About 6.7 inches
Weight: About 1 ounce
Wingspan: About 11.8 inches
The Summer Tanager is a year-round resident of the conifer forests in Oregon, but it can also be found in meadows and suburban neighborhoods.
This small songbird prefers to spend most of its time high in the forest canopy, where it catches bees and wasps in flight. After catching the prey, the bird smashes it against a branch. It also feeds on other insects like moths and flies.
Male birds are bright red, while females have bright yellow-green underparts. The Summer Tanager occasionally feeds on blackberries, pokeweed, mulberries, and bananas. It has a very distinctive robin-like call.
Red Crossbill
Scientific Name: Loxia curvirostra
Length: About 7.8 inches
Weight: Between 1.4 and 1.9 ounces
Wingspan: About 10.6 inches
The Red Crossbill or Common Crossbill has a bright brick-red overall plumage with darker wings and tail. Female birds are usually yellowish-brown.
You can find this bird in large flocks that might consist of several hundred individuals, primarily located in mature seed-bearing forests. It has a sharp metallic call and is usually seen in the morning along roadsides where it consumes grit.
The Red Crossbill feeds on the seeds of pine, spruce, or Douglas-fir. It holds the cone with its feet and uses its bill to expose the seeds.
White-Winged Crossbill
Scientific Name: Loxia leucoptera leucoptera
Length: About 6.69 inches
Weight: Between 1.05 and 1.41 ounces
Wingspan: Between 10.2 and 11.4 inches
The White-winged Crossbill has bright rose-pink plumage with dark black wings and two white wing bars. Female birds are yellowish or greenish with the same wing and tail pattern.
White-Winged Crossbills feed on spruce cones, and each bird can eat up to 3000 seeds each day. This bird is found all year long in Northeast Oregon, especially in Wallowa Valley. Bird watchers can also find it in the Langdon Lake area and the John Day area.
When spruce cones are scarce, The White-Winged Crossbill feeds on tamarack and fir seeds. In the summer, it feeds on insects like budworms, ants, and spiders.
Blue Birds in Oregon
Mountain Bluebird
Scientific Name: Sialia currucoides
Length: Between 6.1 and 7.1 inches
Weight: Between 0.85 and 1.31 ounces
Wingspan: Between 11 and 14.2 inches
The Mountain Bluebird is usually found east of the Cascade Summit, breeding above 3500 feet. It can also be found in higher elevations in the Siskiyou Mountains.
It has bright blue plumage, which tends to be darker on the wings. Female birds are brownish with some blue feathers on their wings and tail.
The Mountain Bluebird hovers while looking for insects. It mainly feeds on grasshoppers, spiders, caterpillars, and beetles. In winter, it feeds on seeds and small fruits.
You can attract a pair to your backyard by setting up a nesting box before the breeding season.
Western Bluebird
Scientific Name: Sialia mexicana
Length: Between 5.9 and 7.1 inches
Weight: Between 0.8 and 1.1 ounces
Wingspan: Between 11.4 and 13.4 inches
Male Western Bluebirds have shiny blue upperparts with rusty-orange vests and bright blue throats. Female birds are buff gray with pale orange breasts.
The Western Bluebird is found in several areas in Oregon, especially in the moderate-elevation foothills in Western Oregon. It can also be located on the south coast and along the Coast Range foothills.
During the non-breeding season, this bird becomes highly social and feeds in flocks. It can be seen perching on utility lines and perches.
During the summer, it feeds on land-dwelling insects. The Western bluebird's favorite foods include grasshoppers, caterpillars, ants, and snails. In winter, it complements its diet with seeds and fruits.
Steller's Jay
Scientific Name: Cyanocitta stelleri
Length: Between 12 and 13 inches
Weight: Between 3.5 and 4.9 ounces
Wingspan: About 17.3 inches
The Steller's Jay has a charcoal black head with an overall, almost sparkling blue, beautiful plumage on the wings. It can be found in the dry conifer and mixed forests of the Coast and Cascade Ranges, especially during the breeding season.
Steller's Jay is a forager that eats anything it can find. It feeds on insects, seeds, berries, nuts, and even eggs, small animals, and nestlings.
Around people, it feeds on garbage and picnic leftovers. In some cases, Steller's Jays can also steal food from other birds.
You can attract this bird to your bird feeder by filling it with peanuts, large seeds, and suet. These birds usually carry many peanuts to store them until winter, when food is harder to find.
Green Birds in Oregon
Broad-Billed Hummingbird
Scientific Name: Cynanthus latirostris
Length: Between 3.1 and 3.9 inches
Weight: About 0.1 ounces
Wingspan: About 5 inches
The male Broad-billed Hummingbird is bright green with a shiny blue throat and a red bill. Female birds are golden-green with gray underparts.
Since this is not a common bird in Oregon, it's always a rewarding experience to see it around Steens Mountain, especially in the summer.
This small-sized bird often uses its bill to feed on the nectar of flowers or catches insects while they're flying. It consumes about 1.6 to 1.7 times its weight in nectar every day. Because it has very tiny feet, this bird can't walk or hop and uses rapid wing beats to hover while feeding.
Green-Tailed Towhee
Scientific Name: Pipilo chlorurus
Length: About 7.25 inches
Weight: About 1 ounce
Wingspan: About 11 inches
The Green-tailed Towhee is found in several mountain areas in Oregon, including east of the Cascades and the northern Great Basin.
This bird has a grayish body with a bright olive-green tail and a rufous crown. It's a secretive bird, but it's easier heard than seen.
The Green-Tailed Towhee feeds on seeds and insects, following the double-scratch technique. It uses several things to line its nest, including porcupine hair.
If a predator attacks the nest, the female bird runs away on the ground, raising its tail to confuse the predator into thinking it's a chipmunk.
Anna's Hummingbird
Scientific Name: Calypte anna
Length: Between 3.9 and 4.3 inches
Weight: Between 0.1 and 0.2 ounces
Wingspan: About 4.7 inches
Anna's Hummingbird is usually found in the Willamette Valley and along the coast. It has a shiny bronze-green back with a bright crimson-red crown. The female bird is paler.
During the breeding season, you can easily notice this bird, thanks to its acrobatic flying style. In addition, the male bird usually has a very loud song.
Anna's Hummingbird feeds on insects and the nectar of flowers. It catches insects while they're flying or steals them from spider webs.
Orange Birds in Oregon
Vermilion Flycatcher
Scientific Name: Pyrocephalus obscurus
Length: Between 5.1 and 5.5 inches
Weight: Between 0.39 and 0.49 ounces
Wingspan: About 3.1 inches
The Vermilion Flycatcher prefers to live in open areas, and the male bird has bright orange colorful plumage and dark wings and tail. The female birds are grayish-brown with some orange feathers on the chest.
Despite its small size, you can easily spot this bird, thanks to its bright color. It prefers to perch on branches, especially in insect-rich habitats.
It mainly feeds on insects and catches them while they're flying. Its most common prey includes honeybees, beetles, and crickets. However, it can also catch larger insects like grasshoppers.
American Robin
Scientific Name: Turdus migratorius
Length: Between 9 and 11 inches
Weight: About 2.7 ounces
Wingspan: Between 12 and 16 inches
The American Robin is usually found in Northwestern Oregon, breeding in Lincoln County and the Willamette Valley. It has a bright orange chest and grayish-brown upperparts. Females have paler heads.
This bird can produce up to 3 broods in one year and will visit your backyard if you set up a bird feeder or a nesting box.
In the summer, the American Robin eats earthworms, snails, and some insects. It also feeds on fruits like sumac, hawthorn, and juniper berries. It tries to find fruits with bugs in them to complete its diet.
Red Knot
Scientific Name: Calidris canutus
Length: Between 9.1 and 10.2 inches
Weight: Between 3.5 and 7.1 ounces
Wingspan: Between 19 and 21 inches
The Red Knot is usually found around sewage ponds and Malheur and Summer Lakes and less commonly on the coastline of Oregon during spring and fall. It tends to double its weight before migration.
Breeding adults have orange underparts with a pattern of gold, rufous, black, and buff on their upperparts. Non-breeding adults and younger birds are brownish gray.
The Red Knot uses its bill to probe into the sand and mud to find invertebrates, and its bill has sensory organs that help it find food. It mainly feeds on mussels, clams, marine worms, shrimps, and tiny crabs.
Hooded Oriole
Scientific Name: Icterus cucullatus
Length: Between 7 and 7.9 inches
Weight: About 0.8 ounces
Wingspan: Between 9 and 11 inches
The Hooded Oriole is one of the biggest birds that you can find in Oregon and is usually seen in southwest and northeast Oregon along major rivers.
Male birds are flaming yellow to orange with a black tail, back, and wings. Female birds are olive-yellow with gray backs.
Also called Palm Leaf Oriole, this bird sews its nest on the underside of palm fronds. This bird searches the underside of leaves to catch insects like ants and spiders. It also visits hummingbird feeders, usually hanging upside down to drink the sugar water.
Yellow Birds in Oregon
American Goldfinch
Scientific Name: Spinus tristis
Length: Between 4.3 and 5.5 inches
Weight: Between 0.39 and 0.71 ounces
Wingspan: Between 7.5 and 8.7 inches
The American Goldfinch is one of the most recognized birds in Oregon, with its bright yellow and black plumage. Female birds are pale olive with yellow underneath.
It can be found in woodlands, orchards, and weedy fields, usually engaging in an acrobatic flying style. This bird usually forms mixed flocks with Lesser Goldfinches at bird feeders. It mainly feeds on seeds, especially thistles.
Unlike other finches, The American Goldfinch molts its body feathers twice a year, and seeing its bright yellow plumage is a sign that the warm season is beginning.
Lesser Goldfinch
Scientific Name: Spinus psaltria
Length: Between 3.5 and 4.7 inches
Weight: Between 0.28 to 0.41 ounces
Wingspan: Between 5.9 and 7.9 inches
Male Lesser Goldfinches have glossy black backs and bright yellow chests with some white patches on the wings. Female and young birds are olive with pale yellow underparts.
The Lesser Goldfinch can be found in the north Willamette Valley, all the way through the Umpqua Valley and the Rogue Valley.
These birds gather in big groups, feeding on seeds and grains. They don't mind mixing with flocks of other songbirds, especially at bird feeders. The Lesser Goldfinch also eats coffeeberry, elderberry, and the buds of oaks, willows, and sycamores.
Yellow-Rumped Warbler
Scientific Name: Setophaga coronata
Length: Between 4.7 and 5.5 inches
Weight: Between 0.4 and 0.5 ounces
Wingspan: Between 7.5 and 9.1 inches
The Yellow-rumped Warbler is one of the most popular warblers in Oregon and can be found in several habitats, from backyards to coniferous forests. The Yellow-Rumped Warbler has distinctive yellow and gray upperparts and yellow throat, chin, and upper breast, and a white wing patch, but the female bird tends to be paler.
In summer, the Yellow-Rumped Warbler feeds on grasshoppers, bark beetles, leaf beetles, and caterpillars. It also feeds on spruce budworm, which is a serious pest.
The bird's body is equipped to digest bayberry and wax myrtle, which give it energy to winter further north. It will come to your backyard feeder if you fill it with suet, peanut butter, raisins, and black oil sunflower seeds.
Other Birds to Watch For In Oregon
Violet-Green Swallow
Scientific Name: Tachycineta thalassina
Length: About 5 inches
Weight: About 0.5 ounces
Wingspan: About 10.6 inches
The Violet-green Swallow is common in Oregon throughout the summer, usually residing in open evergreen habitats. It has a shiny violet rump with bright green plumage. Female birds have duller colors and are paler.
Your best chance to see the Violet-green Swallow is to head to a pond or lake in the early morning and keep your eye on the sky, as it prefers to fly at high altitudes.
If your house is near a pond, this bird might nest in your backyard when you set up a nesting box. It feeds on aphids, beetles, leaf bugs, and winged ants it finds on the branches of trees, and also catches its prey and eats it in the air.
Red-Breasted Sapsucker
Scientific Name: Sphyrapicus ruber
Length: Between 7.9 and 8.7 inches
Weight: Between 1.9 and 2.2 ounces
Wingspan: Between 14.6 and 16 inches
The Red-breasted Sapsucker is the only sapsucker in Oregon and can be found in the coniferous coastal forests west of the Cascade Crest. It's a medium-sized woodpecker with a red head and white belly. It has a black back and barred wings.
The Red-Breasted Sapsucker feeds on the tree's sap and the insects found in the bark by digging wells in horizontal lines. The Rufous Hummingbird usually follows this woodpecker, feeding at the wells that the latter excavates.
Purple Martin
Scientific Name: Progne subis
Length: Between 7.5 and 7.9 inches
Weight: Between 1.6 and 2.1 ounces
Wingspan: Between 15.3 and 16.1 inches
The Purple Martin can be found at the Coast Range and Willamette Valley. Bird watchers can also find it at Fern Ridge Reservoir and along the Columbia River.
This male bird is a dark blue-purple with a black-brown tail and wings, while the female is paler with some gray feathers on the head.
The Purple Martin feeds on insects while flying and gets water by flying over ponds and scooping up water with its lower bill. It feeds on flies, grasshoppers, butterflies, and crickets.
You can attract the Purple Martin to your backyard by putting out eggshells to provide it with grit to digest the insect exoskeletons.
White-Tailed Kite
Scientific Name: Elanus leucurus
Length: Between 14 and 17 inches
Weight: Between 8.8 and 13.4 ounces
Wingspan: Between 35 and 40 inches
The White-Tailed Kite is a large raptor with a white tail, white head, black shoulder patches, and red eyes. It's commonly found in several coastal areas in Oregon, although it has a limited range in the United States.
This bird usually hovers over open areas to catch its prey. It faces the wind and scans the area for movement, feeding on small animals, birds, lizards, and insects. During the non-breeding season, the birds roost in large groups.
Black Skimmer
Scientific Name: Rynchops niger
Length: Between 16 and 20 inches
Weight: Between 7.5 and 15.8 ounces
Wingspan: Between 42 and 50 inches
The Black Skimmer is usually seen hovering over the water bodies of Oregon until it spots a fish. It keeps its bill open until it finds its prey, then closes its mouth and flies away with the fish. It usually passes very close to the water.
The bird has black upperparts, white underparts, and a red and black bill. It usually catches fish at dusk, dawn, or night, using its sense of touch to locate fish in low light.
The Black Skimmer usually feeds on bay anchovy, silversides, herring, and needlefish. It also feeds on shrimp and blue crab.
Barred Owl
Scientific Name: Strix varia
Length: Between 16 and 25 inches
Weight: Between 16.6 and 37 ounces
Wingspan: Between 38 and 49 inches
You can find the Barred Owl in the forests of the Cascades, the Coast Range, Wallowa, and the Klamath mountains. It has a brownish-gray overall plumage and big eyes that allow it to hunt at night.
If you have heard a loud owl call in a movie, it was probably a Barred Owl. Bird watchers can hear the call up to a distance of 0.5 miles.
The Barred Owl hunts from a perch and usually stays undetected because it flies silently. You can help a breeding pair by setting up a nest box in a mature forest.
Its most serious predator is the Great Horned Owl, and it usually feeds on squirrels, mice, voles, arthropods, fish, and amphibians.
Song Sparrow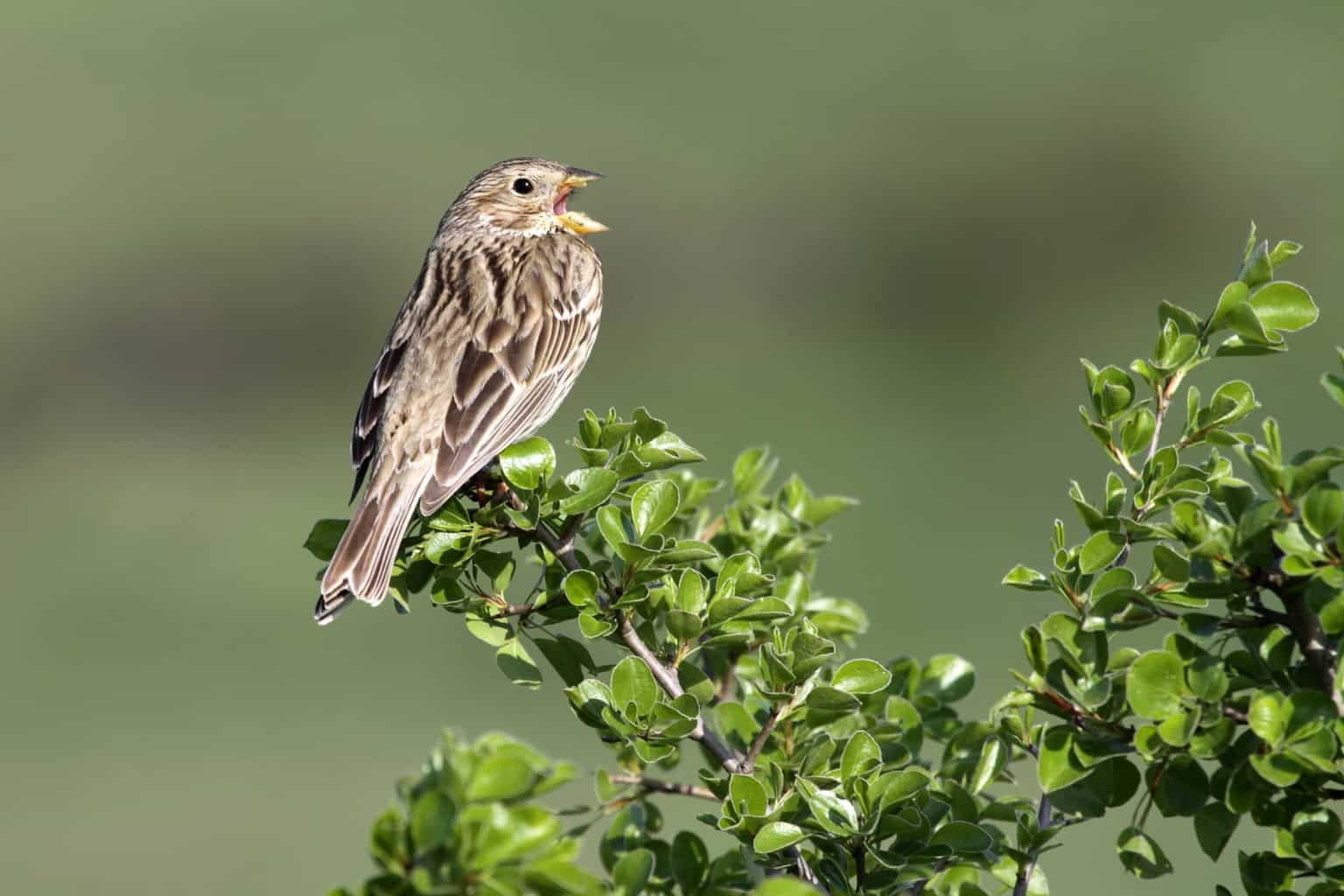 Scientific Name: Melospiza melodia
Length: Between 4.3 to 7.1 inches
Weight: Between 0.42 and 1.87 ounces
Wingspan: Between 7 and 10 inches
The Song Sparrow has streaky brown plumage with white streaks, black spots, and a warm brown head. It has a plump shape with a rounded tail. It prefers to live in wet areas and semi-open habitats.
In the spring and summer mating season, the male Song Sparrow sings a sweet song while perching. It usually visits bird feeders and feeds on insects and invertebrates in the summer. But it eats seeds and fruits in winter.
Osprey
Scientific Name: Pandion haliaetus
Length: Between 19.5 and 26 inches
Weight: Between 2 and 4 pounds and 10 ounces
Wingspan: Between 50 and 71 inches
The Osprey lives in the forested habitats around lakes and along the coastline in Oregon. Unlike other raptors, this one can dive into the water and catch its prey. On rare occasions, the Osprey has been seen feeding on fish carcasses and snakes.
It has brown upperparts and white underparts with dark wrist patches and white wings. It usually builds its nest in artificial structures like channel markers, nest platforms, and telephone poles.
Conclusion
You'll have a great time in Oregon because there are so many birds that you can see and study. Most of these birds will even visit your backyard if you set up a suitable bird feeder.
Make sure not to startle the birds while exploring the different habitats of Oregon, and you'll be surprised by the fantastic creatures you find.